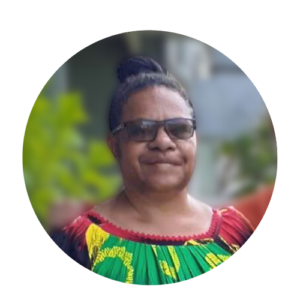 Juggling being a mother, leading a recruitment team, and being an active community member collaborating locally to upskill women, Rachael Romas is a beacon of inspiration, breaking down stereotypes in a male-dominated industry as well as being a strong role model for women in mining globally.
After graduating with a degree in Industrial Psychology at the University of Papua New Guinea, Rachael Romas began her career in the mining industry in 2009 as Recruitment Advisor on the PJV Porgera Gold Mine, Barrick Niugini Ltd. Throughout her career, she has held positions including Assistant Director Human Resources, Employee Development Advisor, and Succession Planning Advisor.
In February 2020, she joined Globe 24-7 as a Senior Recruitment Consultant supporting our Lihir RPO Project. Rachael has been a key contributor to the success of the project, and recently accepted the promotion to National Recruitment Manager role overseeing the national roles and the national recruitment team of one of the largest mining recruitment projects in the world.
True to her strong work ethic, resilience, and willingness to learn, she continuously goes out of her way to seek personal development and training opportunities. In a recent example, Rachael approached her manager expressing interest in a Level 3 management course, which was approved and celebrated by Globe 24-7 as an incredible display of initiative and career growth.
Rachael Romas is clearly a very critical contributor to the Lihir RPO project and is highly regarded on the island and by key players on the mine site. She is a front runner in championing the Diversity and Inclusion conversations daily and is an advocate for women in the mining industry.

Interview with Rachael Romas
---
What drew you to mining as a career choice?
"I have chosen Mining because it is an adventurous, fast-paced environment. Every day we learn new things, new systems, and process changes to meet operational demands and so there is always the need to adapt and flow. As a recruiter working with Line Managers to fill their vacancies, I learn and appreciate the different professions that come together to achieve a common goal."
---
Please describe your career progression and your current role.
"I started as a graduate back in 2009 (Graduate Recruiter) and moved into a Recruitment Advisor role after some time. I then crossed over to Learning & Development performing basically training, career development and succession planning before moving to an HR Generalist role performing all round HR functions for about 3 years. I then got back into recruitment when I joined Globe 24-7 in February 2020 as a Senior Recruitment Consultant supporting the Lihir RPO Project for our client Newcrest Mining. Recently I've been promoted to the National Recruitment Manager role overseeing the national roles & the national recruitment team."
---
Tell us more about the economic importance of the mining industry in Papua New Guinea.
"Our country depends on natural resources to contribute to its economy and no doubt mining is a key contributor. It is one of the pillars of economic growth in Papua New Guinea. Further, it creates employment opportunities for thousands of nationals as well as expatriates."
---
What has it been like for you to work as a woman in the mining industry? What problems have you faced working in a primarily male-dominated industry? Do you believe you've had to 'fit' into the industry?
"In the past, mining was a male-dominated area however, that has changed over time and women have excelled in the industry. Women are now engineers, geologists, metallurgists, miners and technicians out in the field working with men and also in the office environment which I am one of them. I find it interesting and the challenges to meet different KPI & performance outputs. I like working in a fast-paced, results-driven environment and think it is what keeps me going despite various challenges."
---
Have you had any mentors or sponsors who have helped you on your journey?
"I have had the opportunity to work with some great people leaders throughout my time in this industry. Great mentors that helped me provide the support, motivation, and guidance throughout my career."
---
What are you most proud of having achieved in your career so far?
"There are a lot of achievements to be proud of but one that I'm most proud of is being able to contribute meaningfully to this RPO Project in Lihir, where I have placed over 200 candidates so far."
---
What are you passionate about in your work and find most rewarding?
"My passion is in recruitment and part of my role as a recruiter is to understand the different types of roles and learn how they contribute to the overall production or running of the mine. I enjoy doing those debriefs and talking to hiring managers, understanding what the requirements are for their roles and assisting them to identify the best-fit candidate to fill their role is rewarding."
---
What personal and professional characteristics have been most important in enabling your career success?
"I am a good listener and the willingness to learn more has helped me excel in my career. I am a person of integrity with strong moral and ethical principles. I always believe that respect is a two-way street, you give respect to gain respect, and respecting people's views, opinions and seeing things from another person's perspective has helped broaden my knowledge and how I view things."
---
Do you believe women in mining groups can help to change the image of the industry and make the sector more attractive to women and youngsters – both boys and girls? Do you believe that all women in the sector act as role models for younger generations?
"Yes, I strongly believe so."
---
What do you believe are actions the industry can take to attract and retain more women?
"One way is to engage with the schools and encourage young girls in Secondary Schools to take up STEM courses that will see them build interest in mining careers in the future. Additionally, to sponsor girls in tertiary institutions and technology to attract them into the industry once they finish school and also come up with strategies to retain them."
---
Do you have any advice for young women starting out in their careers? What do you wish you'd known when you first entered the workplace?
"Encouragement to young girls to take up STEM classes and for women to choose mining as a career. The experience is amazing and rewarding."
---
Have you any hobbies, pastimes, or secret talents that you would like to tell us about?
"I like camping and outdoor activities as well as gardening. I also like to learn at least a new skill like sewing or trying out a new recipe."
---
"It is great to see that Rachael Romas has recently been promoted to National Recruitment Manager. She is always professional and helpful, and it is a pleasure to work with her. I cannot stress enough the importance of Rachael in this role. My statement above is far from what it means to have her and the impact she has had in such a short time, it is not only a pleasure to work with her, it is a blessing. I can already see the culture change on Globe 24-7 with Rach in this role."
Glenn Bereicua
Superintendent, Maintenance – Power & Utilities
Newcrest Mining Limited