Investing in African Mining Indaba returned in May this year, bringing mining professionals and friends together for the first time in two years since lockdown. Our EMEA (Europe, Middle East, and Africa) team traveled to Cape Town for an informative and beneficial event.
---
Overview of topics
There was a heavy emphasis on ESG (Environmental, Social, and Governance), which is representative of mining firms' push for ESG in the industry, in keeping with this year's topic of Evolution of African Mining: Investing in the Energy Transition, ESG, and Economies. Additionally, there were talks focusing on Greener Mining, highlighting not just the positive but also the negative and harmful repercussions on the environment that are rarely discussed, arguing that the greener mining efforts could cause just as much damage as continuing on our current path. Furthermore, the event examined the activities and efforts of various countries in terms of encouraging and attracting investment. When it came to investment, South Africa was viewed as lagging behind, whereas Saudi Arabia was seen as one of the upcoming investment hotspots.
Furthermore, Robert Friedland of Ivanhoe Mines gave a session titled "Revenge of the Miners" that created a lot of discussion about why the world needs greater mining investment to keep up with global demand.
Finally, while the mining industry appears to be pushing for improvements in ESG and Women in Mining, corporations are failing to look inwards, with minimal investment in training and maintaining their staff. As businesses prepare for the fourth industrial revolution, a shift in focus is required to focus on how they are attracting, retaining, training, and developing their people and skills in order to propel them forwards in the mining industry.
Exhibits and interactions
Daniel Shaw, our Delivery Manager EMEA, didn't hesitate to engage himself in the interactive exhibits and activities as he moved around the conference.
"I was impressed, the digital side of things were big – a lot of new technology coming into the market. The Virtual Reality (VR) headset on display there transported you to inside an underground mine, where you could load the drill and blast machines. Also the awareness of ESG, issues being handled on the community front, more involvement with the local communities and NGOs."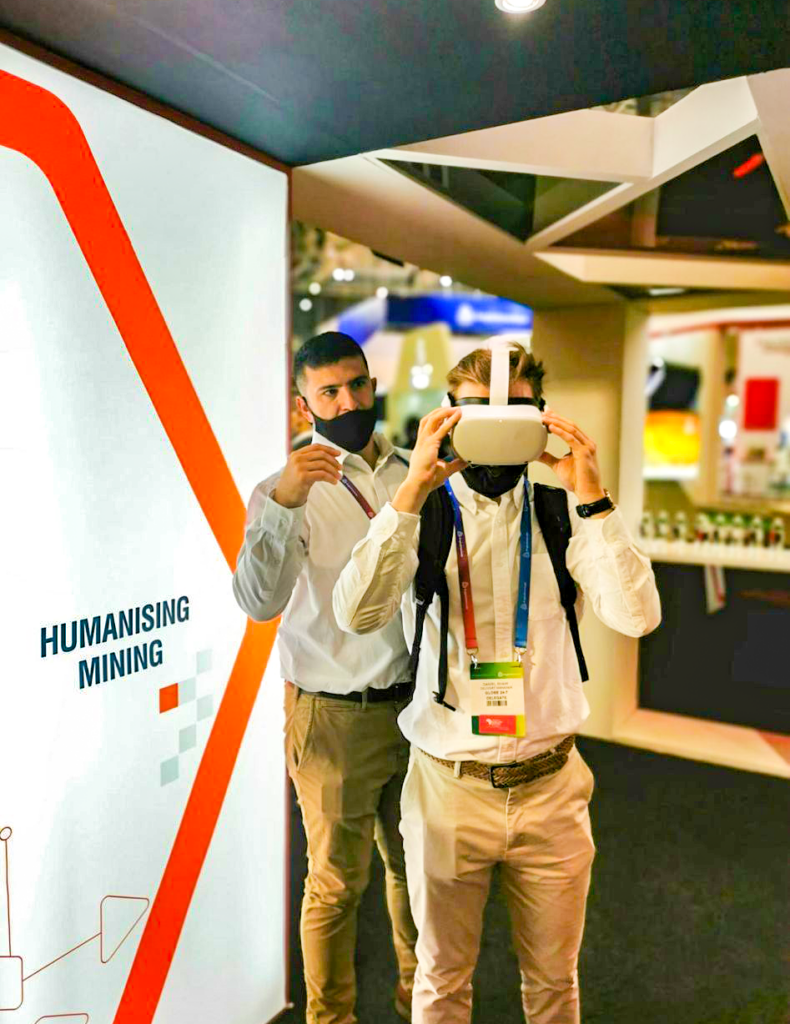 Dewald van der Merwe, our Senior Client Relationship Lead, noted that it was terrific to meet and talk with our present and prospective clients face to face following travel challenges due to Covid.
Major takeaways
Our team noticed a number of major takeaways from the Mining Indaba 2022 among the excitement of in-person encounters and discussions.
Saudi Arabia has shown to be an investment-friendly country.

ESG and women in mining are receiving a lot of attention.

During the Mining Indaba, junior miners were underrepresented.

When it comes to greener mining, there are two sides of the coin to consider: the good and the bad.

In general, there is a lot of positivity within the industry surrounding all the various increase in mining related activities.

The demand for skilled talent is very high and looks to remain so for the foreseeable future.